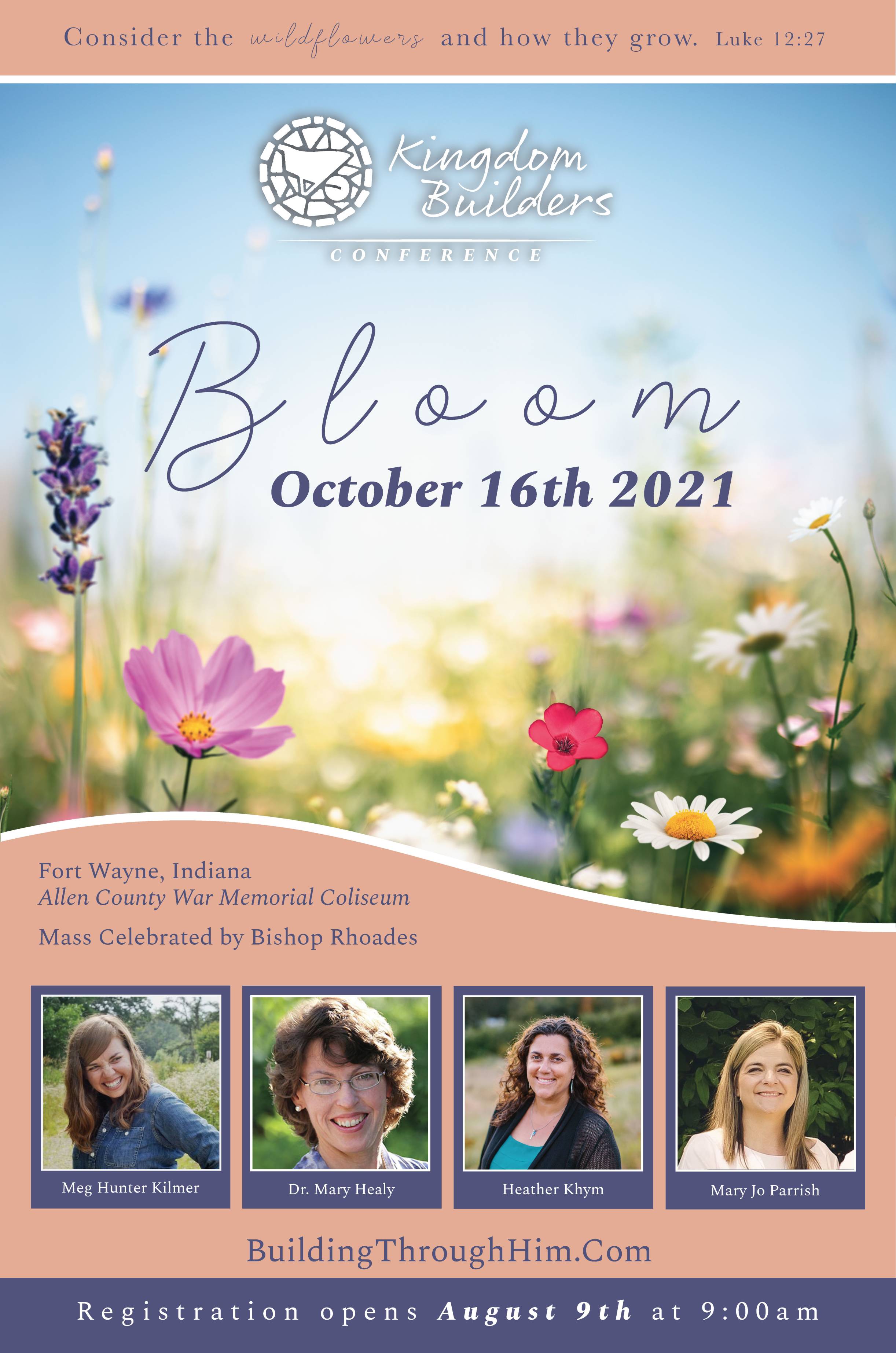 Kingdom Builders is excited to announce the second annual Kingdom Builders Conference scheduled for Saturday, October 16, 2021, at the Allen County War Memorial Coliseum.  Registration for the conference opens Monday, August 9, at 9 a.m. Come and learn how you are Designed to Bloom
The lineup of speakers for the day is designed to inspire freedom in women's hearts and minds, allowing us to come into full bloom. 
Heather Khym co-hosts Abiding Together, a weekly podcast that offers connection and encouragement for followers of Jesus who are seeking passion and purpose. Heather and her husband are founders of Life Restoration, which helps people become fully alive and experience freedom and restoration in Jesus. She will share stories of redemption and inspiration in responding to the Lord's call to wholeness. 
Meg Hunter-Kilmer became a "Hobo for Christ" in 2012. After two degrees in theology and five years of teaching religion, Meg felt that God was calling her to follow Him in a more literal way. She quit her job, packed her car and hit the road, becoming a hobo for the kingdom. Meg travels the country speaking about the goodness of God to anyone who will listen. She has found friendships with the saints and will share stories about saints who attained holiness in spite of obstacles.
Dr. Mary Healy, professor of Sacred Scripture at Sacred Heart Major Seminary in Detroit, is a respected author in many subject areas and the chair of the Theological Commission of CHARIS (Catholic Charismatic Renewal International Service) in Rome. Dr. Healy will speak about her work with deliverance ministry and healing, inspiring women to find true peace through a personal encounter with Jesus.
Mary Jo Parrish is a passionate disciple, wife and mother, and the founder of Kingdom Builders. She has been a teacher of the Catholic faith for over 10 years. Her Teachings, shared at monthly Kingdom Builders Gatherings, lead hundreds of women to apply Scripture and the lives of the saints to everyday life. By telling humorous and humbling personal stories of how God allows beauty to rise up out of the mess, Mary Jo combines the sacred and the silly for a time of laughter, learning and love of the Father.
Tickets
Individual tickets are $70 and a reserved table of 8 is $650.  If purchasing a table select the group option on eventbrite.  After you purchase the table a member of our registration committee will reach out to you to collect the additional guest information.  
Time
The event is 8:30-4:30.  Doors open at 7:30am.  Conference will start promptly at 8:30am.  
 Registration Information
No ticket is required.  You will check-in by the name on your registration.  If you purchased a table the individuals at your table will check-in with their names.
 Food & Drink
Breakfast is included in the price of your ticket.  Breakfast items include, fruit, muffins, and specialty breads.  Breakfast is buffet style from 7:30am-8:30am 
Unlimited Drinks are included in the price of your ticket and available throughout the day at three drink stations.  Beverages include coffee, ice tea, lemonade,  water, and canned Pepsi products.
You selected your lunch option during the check-out process.  If you have questions or concerns regarding the salad you selected please email conference@buildingthroughhim.com.
Parking
The coliseum charges $6 for parking.  Please have $6 cash available to pay the day of the event.
Confession
Confessions will be available from 7:30-9:30 and 10:30-2:30.  
Mother's Area
Mother's with nursing babies under the age of 1 year old are permitted to attend.  We will have a designated mother's area for you in addition to a private nursing room for those mother's that need to pump or breastfeed their babies in attendance.
Vendors
Please click here to see the list of confirmed vendors. Vendors will be available to shop from 7:30-9:30 and 10:30-3:30.
COVID Statement
Masks are not required unless changes are mandated by government officials.  If you can not attend you can transfer your ticket to another individual of your choice.  Refunds are not available for this event.  If you need to transfer your ticket or have any other questions please contact conference@buildingthroughhim.com.
 Volunteer Opportunities  
If you would like to volunteer during set-up Friday or an hour during the conference please see the link below that shows the volunteer opportunities:
Volunteer Opportunities
 If you still have questions please reach out to the registration team at conference@buildingthroughhim.com.  
 We look forward to seeing you on October 16 at the Allen County War Memorial Coliseum!